"The Loncaric Media Group more than met our video and editing goals." - Mark Barrett, University of Indianapolis
  [ bRAIn fOOd ] Somehow just saying news seemed so conventional.
This section is for company news and information regarding branding, markteting and the like.
[ COMPANY NEWS ]
Updates coming soon.
[ TELEVISION / MARKETING ]
Updates coming soon.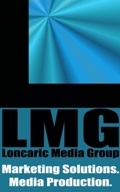 49 Boone Village, Suite 240, Zionsville, IN  46077  e:  info@loncaricmedia.com
(C) 2010 The Loncaric Media Group, LLC