[ piPEs ]  Laying voice over tracks with some of the best pipes we know. 
This page is about voiceover talent.  We've worked with talented voice over professionals over the years.  While there are many great talents out there, we certainly recommend any of the folks below.
Ed can currently be heard on 105.5FM The River.  Ed's pipes originally came from Illinois, but he's a Hoosier now.  He has his own show and also has commercial, promo and industrial video experience.  Ed has supplied voice overs to the IBA Spectrum Awards, commercials and sales reels for LMG.
[ Diane House ]
Diane House can currently be heard on HI99-FM.  Besides her own radio show, Diane has promotional, commercial and industrial voice over experience.  Diane recently contributed voice over work for the LMG produced IBA Spectrum Awards and commercials.
Jeff Rechner is now in his fourth decade in the radio, television and voice industry (taking time out for bathroom breaks, of course). Voice Boy's vocal stylings are now heard on movie trailers, commercials and as a signature voice for television networks and radio and TV stations around the world.
These days, from his home studios in Los Angeles, Jeff is showcasing his talents on TV and radio stations around the world, commercial campaigns, documentary and corporate narrations, and frankly, anything else that pays money for opening one's mouth and making noise.

[ Larry Van Nuys Voice Over Production ]
Larry Van Nuys has diverse and distinguished experience in radio and television broadcasting. In radio, he has been heard on such formidable powerhouses in Los Angeles as KMPC, KABC, KCBS, KNX and KFI . He has also served as the signature voice for KTLA-TV and KCOP-TV. In the national arena, Larry has been the prime voice-talent for television stations that include most of the top 30 markets.  As a commercial talent, Larry has been heard on countless radio and TV spots for such major advertisers as Adidas, Bank of America, Chevron, Disneyland, KFC, Mazda, Michelob, Sony, US West and McDonalds. He has done a myriad of industrial projects as well for accounts such as McDonnell Douglas, Dodge, Coca Cola, Chrysler, Mattel, Toshiba and Chevrolet.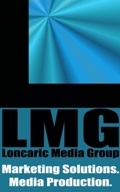 49 Boone Village, Suite 240, Zionsville, IN  46077  e:  info@loncaricmedia.com
(C) 2010 The Loncaric Media Group, LLC